Hub Group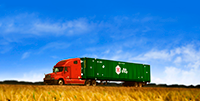 Hub Group is No. 22 on the JOC's list of Top 40 Global 3PLs, compiled by SJ Consulting, with $3.4 billion in revenue in 2013 earned through its drayage, highway, and intermodal transport solutions. Hub Group's 2013 revenues were up 8 percent from the previous year's $3.1 billion.
Intermodal shipping was the largest source of Hub Group's revenue. The Oak Brook, Illinois-based company  employs 1,982 people and operates 35 offices in North America. Hub Group's operations are limited primarily to the North American markets of Canada, Mexico, and the United States.
The company operates using an asset-light strategy and also offers logistics solutions through its subsidiary, Unyson Logistics. Hub also owns and operates the subsidiary Hub Group Trucking Inc., formerly Comtrak, which handles approximately 70 percent of Hub's drayage needs. The company's 2014 plans include adding approximately 2,000 containers, bringing its total fleet to 28,000, and adding 400 drivers to its drayage fleet.
Key coverage
Hub Group Cuts Guidance for Third Quarter
Hub Group Profit Jumps 10 Percent
Hub Group Reports Record First Quarter Income