Kansas City Southern Railway
Kansas City Southern Railway
The Kansas City Southern Railway Company, the smallest U.S. Class I railroad, is owned by transportation holding company Kansas City Southern, headquartered in Kansas City, Missouri. Kansas City Southern Railway is a primarily north-south line linking the central United States to Mexico, where it connects with Kansas City Southern de Mexico, S.A. de C.V., which is also owned by Kansas City Southern. KCS de Mexico serves northeastern and central Mexico, providing connections to the ports of Lázaro Cárdenas, Tampico and Veracruz.
Founded in 1887, KCSR operates approximately 3,500 route miles in a 10-state region, serving the central and south central U.S.
Holding company KCS also has a 50 percent interest in Panama Canal Railway Co., which provides rail service along the Panama Canal.
In 2013, KCS had a profit of $351.4 million on record revenue of $2.37 billion — up 5.8 percent year-over-year.
KCSR recorded revenue of $649.7 million in the second quarter of 2014, up 12.2 percent from year-earlier revenue of $579.3 million. 2014 half-year was $1.25 billion, up 11 percent from the previous year.
Key Coverage
KCS intermodal facility to tap growing Dallas market
KCS Confident Mexico Won't Strip Its Concession Agreement
Kansas City Southern Reports Record Revenue
Press Releases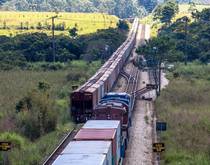 Amid tightening Mexican truck capacity, rail has an opportunity to attract smaller shippers.