Ferromex
Ferromex is the largest railroad in Mexico, with 597 locomotives, more than 14,000 railcars, and over 5,000 miles of track. The company provides general railroad freight and intermodal services, and other auxiliary services that include passenger transport, intra-terminal pulling, and automotive terminal services, among others. The railroad connects five points on the border with the U.S., four seaports on the Pacific Ocean, and two more on the Gulf of Mexico.
The Mexico City, Mexico-based railroad began operation in 1998 following the privatization of most government-owned railroads in Mexico. Grupo Mexico owns 74 percent and Union Pacific Corporation owns 26 percent of the company.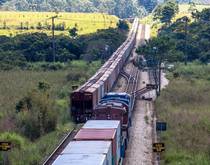 Amid tightening Mexican truck capacity, rail has an opportunity to attract smaller shippers.