CSX Transportation | News
CSX Transportation | News
CSX Transportation is a U.S. Class I railroad serving major markets in the eastern United States with a rail network of 21,000 route miles in 23 states, the District of Columbia, and the Canadian provinces of Ontario and Quebec.The company has more than 31,000 employees and provides rail-based transportation services including traditional rail service and the transport of intermodal containers and trailers. The company reported 2013 revenue of $12 billion, up 2.2 percent year-over-year. The railroad also reported a net income of $1.86 billion, consistent with the previous year's net income which was also $1.86 billion.
The Jacksonville, Florida-based railroad was formed in 1986 through the merger of the Chessie System (parent of the Chesapeake & Ohio Railway, the Baltimore & Ohio Railroad, and the Western Maryland Railway) and the Seaboard System Railroad Inc. (parent of Louisville & Nashville, Seaboard Coast Line, and Clinchfield).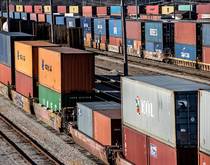 CSX Transportation has recommitted $91 million toward a project.