CSX Transportation is a U.S. Class I railroad serving major markets in the eastern United States with a rail network of 21,000 route miles in 23 states, the District of Columbia, and the Canadian provinces of Ontario and Quebec.The company has more than 31,000 employees and provides rail-based transportation services including traditional rail service and the transport of intermodal containers and trailers. The company reported 2013 revenue of $12 billion, up 2.2 percent year-over-year. The railroad also reported a net income of $1.86 billion, consistent with the previous year's net income which was also $1.86 billion.
The Jacksonville, Florida-based railroad was formed in 1986 through the merger of the Chessie System (parent of the Chesapeake & Ohio Railway, the Baltimore & Ohio Railroad, and the Western Maryland Railway) and the Seaboard System Railroad Inc. (parent of Louisville & Nashville, Seaboard Coast Line, and Clinchfield).
Despite the disruptive winter delays, CSX broke quarterly records for domestic intermodal volume growth and total intermodal traffic gains in the first quarter of 2014. Total intermodal volume in the first quarter rose 5 percent year-over-year to 647,000 units, thanks to a 7 percent jump in domestic traffic and a 3 percent rise in international volume.
CSX Transportation recorded revenue of $3.24 billion in the second quarter of 2014, up 7 percent from year-earlier revenue of $3.04 billion. 2014 half-year was $6.26 billion, up 4 percent from the previous year. The company achieved a net income of $927 million at half-year, a 5.7 percent decrease year-over-year.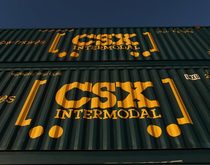 More than 80 percent of CSX shippers surveyed have experienced problems with the railroad's service.