Canadian Pacific Railway is one of the two Canadian rail giants, with 2012 net income of C$484 million on revenue of C$5.695 billion. The transcontinental railroad's network encompasses 14,700 miles of track in six Canadian provinces and 13 U.S. states; it has approximately 16,100 employees.
In 2012, activist investor William Ackman's victory in a proxy fight for control of CP triggered a major restructuring of North America's most underperforming major railroad. Under the helm of railroading legend Hunter E. Harrison, CP is on track to become a leaner and fiercer competitor to larger archrival Canadian National Railway.
For 2013, the company expects revenue growth in the high single digits and an operating ratio in the low 70s. In the third quarter of 2013, its net profit rose 48 percent year-over-year to C$324 million on revenue of C$1.5 billion, up 6 percent year-over-year from the same period in 2012; its operating ratio for the quarter improved to 65.9 percent.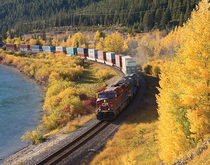 The new seven-day-a-week service was announced on Aug. 14 after a trial period with Hapag Lloyd.