Canadian National Railway
Canadian National Railway
Canadian National Railway is a North American Class I railroad operating the largest rail network in Canada and the only transcontinental network in North America, primarily serving Canada and the Midwestern and Southern U.S. with a rail network of 20,600 route miles of track and more than 24,000 employees. The railroad, which offers integrated transportation services in rail, intermodal, trucking, freight forwarding, warehousing, and distribution, reported 2013 revenue of C$10.57 billion.
The Montreal, Canada-based railroad was created by the Federal Government of Canada in 1918, bringing together several railways that had become bankrupt and fallen into federal government hands. CN was privatized by the federal government in 1995.
Key Coverage
CN touts intermodal service improvements
CN plays catchup on grain but export concerns persist
Video from TPM: CN's Mongeau says rail needs more resiliency
CN's Mongeau sees match-backing as key to intermodal growth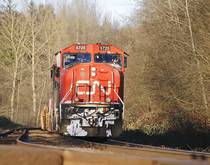 Canadian National Railway also is the sole rail provider at the port of Halifax.