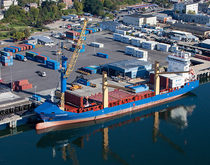 Eimskip aims to make weekly visits by 2020.

The Department of Transportation plans to award 18 grants totaling $600 million to 16 states via the Nationally Significant Freight and Highway Projects program.

A small port in Maine is enjoying a renaissance thanks to lobsters, L.L. Bean and Eimskip, the Icelandic container line that specializes in the refrigerated trade.