The Port of Philadelphia is one of the biggest fruit and perishables ports in the United States thanks to its proximity to so much of the U.S. population and its location above the 39th parallel, below which U.S. importers are not typically allowed to import certain fruits and vegetables from Latin America because of fears over pests. The U.S. federal government is currently running a pilot program to allow imports of those perishables below that point on the map.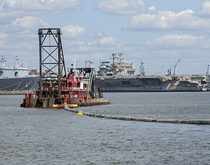 The Port of Philadelphia by the end of the year could be hosting ships of up to 14,400 TEU.

Dredging of the 102.5-mile river channel to 45 feet is just one of many projects under way as Philadelphia and other Delaware River ports build new terminals that can handle various cargoes or rev up long-postponed plans for new terminals.