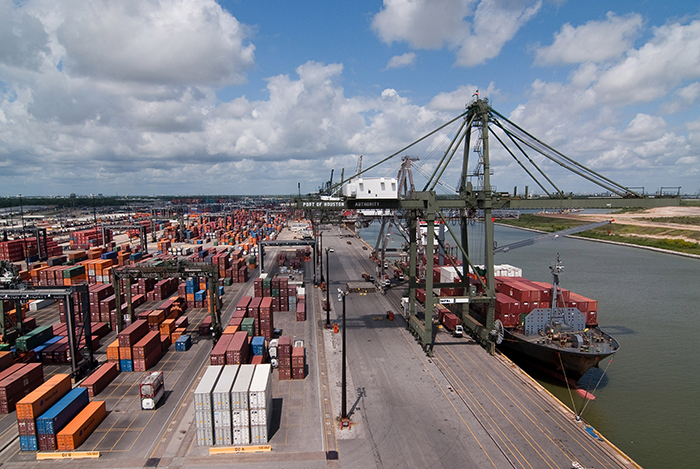 The Port of Houston's Barbours Cut Terminal reopened Thursday afternoon, two days after a tanker and bulk carrier collided in the Houston Ship Channel, leaking a flammable chemical into the surrounding waters.
"I'm looking now and it appears traffic is moving in the channel again," Bill Hensel, spokesman for the Port of Houston Authority, told JOC.com.
The Barbours Cut Terminal is scheduled to open today at 1 p.m., though, Hensel said, that time may be subject to change depending on how long it takes the U.S. Coast Guard to remove the last of the damaged vessels and assess the scene.
All other port terminals in Houston, including the Bayport Container and Cruise Terminal, have remained open and operational since the incident.
Federal investigators have said they still have not determined what caused the two 600-foot ships to collide early Monday afternoon.
The tanker Carla Maersk was hauling roughly 216,000 gallons of a gasoline additive known as methyl tertiary-butel ether when it collided with bulk carrier Condi Peridot at about 12:41 p.m. The impact punctured the Carl Maersk, causing the ship to leak its stores of MTBE.
There was heavy fog, but no inclement weather, and neither ship was speeding, the National Transportation Safety Board reported to the Houston Chronicle.
Although MTBE did enter the water, the volumes leaked should be harmless to traffic moving through the channel one traffic resumes, Hensel said. Although vapors from the chemical can be flammable and toxic in high concentrations, it dissolves easily in water. According to Hensel, the Carla Maersk was sealed before it was moved to prevent further MTBE from spilling into Houston waters.
"My understanding of it is they've been monitoring it, and there are little to no dangerous levels," Hensel said.
The Barbours Cut closure covered a five-mile stretch and stranded some 70 ships on both sides of the Houston channel. Houston handles roughly two-thirds of containerized cargo moving through Gulf ports, and the disruption to terminal operations comes as the port gains extra business tied to U.S. West Coast port congestion. Carriers have deployed additional calls by Panamax vessels to the port to load exports.
Contact Reynolds Hutchins at rhutchins@joc.com and follow him on Twitter: @Hutchins_JOC.