Port of Galveston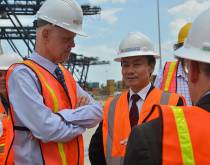 Steven M. Cernak, a veteran of the ports of Galveston, Everglades, and New York-New Jersey passed away over the weekend.

Several US ports, many in the Gulf, are expecting a surge in wind cargo during the next 24 months.
After reinventing itself several times over the decades, the Port of Galveston has settled on a business formula that emphasizes vehicles and other roll-on, roll-off cargo, refrigerated shipments, wind energy and project cargo, and cruise ships.