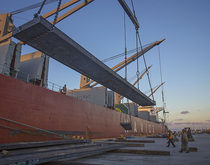 Volumes are expected to increase this year.

Things could be better, but they also could be a lot worse for breakbulk and project cargo shipping in US Gulf ports.

Texas's non-container ports are in the middle of a multiyear boom brought on by construction of massive industrial plants that are being built around the ports of Brownsville and Corpus Christi to take advantage of the abundance of shale oil and gas flowing out of the Eagle Ford oil shale field in South Texas.