Gulfport
News and analysis covering the port of Gulfport, Mississippi.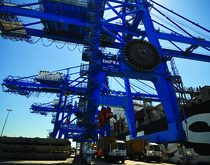 US Gulf ports' share of the nation's container trade has been inching up for several years.

New Panama Canal services from Asia are helping to fuel steady growth in Gulf ports' single-digit share of US containerized imports.
After more than a decade of twists and turns and highs and lows, the finish line is in sight for a $570 million reconstruction and expansion of the Port of Gulfport, Mississippi.

Fruit importer signs lease with Mississippi port for up to 40 years.