Port of Miami Terminal Operating Co.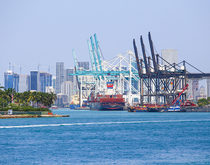 US maritime regulators have approved an alliance between container terminals at Port Miami.

The South Carolina Ports Authority is in "hypothetical and anticipatory" discussions with US federal regulators over a potential alliance with an undisclosed port authority.

US regulators are reviewing a proposed agreement between two marine terminal operators at the Port of Miami that would allow the terminals to jointly negotiate terms and conditions with container lines — a first for the United States.