Modern Terminals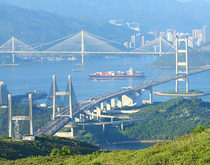 "Anything that puts restrictions on the largest vessels coming into Hong Kong impacts Hong Kong's competitiveness."

Modern Terminals' Chief Operating Officer Peter Levesque will succeed Sean Kelly as managing director.

The shipping industry is anxiously awaiting efforts by the Hong Kong government to help the territory's port cope with a number of issues it is facing.

Another terminal operator will offer container weighing services to help shippers comply with VGM rules.