Maher Terminals
Maher Terminals is the largest container terminal in the Port of New York and New Jersey, which is the second-largest container port in the United States and the largest on the U.S. East Coast.
Maher Terminals, one of the largest privately held multi-user container terminal operators in the world, has been increasing the capacity of its ship-to-shore cranes and investing, alsong with Port Newark Container Terminal, in new straddle carriers for their container yards.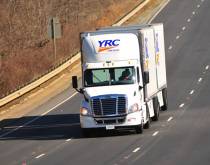 The US government's $700 million loan to YRC Worldwide guarantees LTL stability in an uncertain economy.