Hutchison Port Holdings
Hutchison Port Holdings, a subsidiary of Hong Kong-based investment company Hutchison Whampoa Limited, is a major port investor, developer and operator.
Founded in 1994, the company has terminal operations in countries around the world, including Asia, Africa, Australia, the Caribbean, Europe, the Middle East, Central America, North America and South America, including Hongkong International Terminals, Lazaro Cardenas Terminal Portuaria de Contenedores in Mexico, Panama Ports Co., and an array of Europe Container Terminals operations. In 2012, HPH's port network handled a combined throughput of 76.8 million 20-foot-equivalent units.
HPH also has expanded internationally into other areas, including cargo security (Loadstar), logistics (including Hutchison Logistics in Hong Kong), airport operations and ship repair.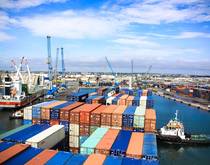 Mexico faces a wealth of uncertainty as it enters 2019, but it is unlikely to unravel the trade sector's strength.

Fruit shippers' longstanding frustration with what they describe as high rates and low service levels could change with the introduction of more competition.

Hutchison Ports is poised to establish itself in the Black Sea.

The agreements bring the number of Hutchison Ports' terminal locations to 51 globally.