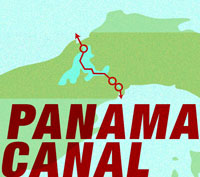 Read news and analysis on the Panama Canal, including discussions of development and reports on tolls and traffic, including ocean carrier strategies involving use of the Panama Canal for all-water service from Asia to the U.S. East Coast.
The Panama Canal Authority is currently much of the way through a multi-year expansion program that involves the construction of two new sets of locks, on the Pacific and Atlantic sides of the canal, to accommodate larger ships. The project also involves the widening and deepening of navigational channels in Gatun Lake, as well as the deepening of Culebra Cut.
For specific updates and insight into the expansion project slated for completion in 2015, readers should also consult the JOC's Panama Canal Expansion special topic.
Commentary
Canals used to be a sleepy topic. Suddenly, times have changed.