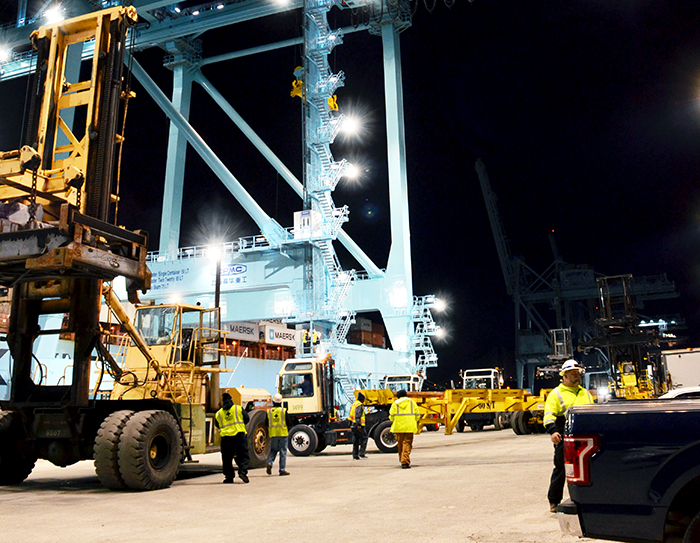 LONG BEACH, California — International Longshoremen's Association president Harold Daggett urged US East and Gulf coast dockworkers to heed their contract's no-strike clause and avoid unauthorized work stoppages for a Washington protest.
In a statement issued at the opening session of the JOC's 17th annual Trans-Pacific Maritime Conference, Daggett said, "I strongly urge all ILA members not to engage in any work stoppage or any other violations of our current master contract."
Importers and exporters had expressed concern about talk of a one-day coastwide work stoppage for a Washington march to protest what the union claims is state-level government interference in collective bargaining.
The planned protest was aimed at the Waterfront Commission of New York Harbor, the anticrime agency that oversees dockworker hiring in the Port of New York and New Jersey, and at the employment of non-union state employees for dockworker jobs at state-owned South Atlantic ports.
Daggett said the ILA will seek "emergency meetings" with members of Congress to address ILA concerns he said had "reached a boiling point." No dates have been set for the meetings.
"We hear your anger, we hear your frustration, and we intend to address it," Daggett said in a statement to ILA members. "With a delegation of ILA leaders, I will be heading to Washington to seek help for our industry from Congress."
Meanwhile, he urged ILA members to stay on the job. "Let the leadership of the ILA meet with Congress in Washington. I am confident Congress will understand the urgency of our issues and help us resolve any and all problems."
After talk of a coastwide work stoppage following informal meetings this month between ILA and employer representatives, United States Maritime Alliance reminded the union of its no-strike clause and warned, "If the ILA engages in any unilateral walkout, USMX will enforce the contractual rights of its members to the fullest."
The work-stoppage talk cast a cloud over the impending start of formal negotiations between the ILA and USMX on a new Maine-to-Texas master contract to replace the one that expires Sept. 30, 2018.
Contract bargaining is expected to begin soon after Daggett asks union locals to elect more than 150 wage-scale delegates who will be present for the negotiations.
Top issues in the next negotiations are expected to include technology and work jurisdiction. Several ILA local leaders also have called for creation of a coastwide plan to shore up underfunded pension plans, which are negotiated port-by-port.
The union hasn't had a coastwide strike since 1977 but came close to one during the last negotiations. The current six-year agreement was settled after repeated strike threats, two extensions, and help from a federal mediator.
Contact Joseph Bonney at joseph.bonney@ihsmarkit.com and follow him on Twitter: @JosephBonney.