Halifax Port Authority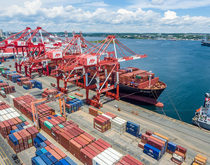 Improvements are aimed at handling larger ships that have increased the port's volume.

Halifax had been looking to renew its lease on life after a rough winter in 2014 and later failing to benefit from the severe congestion at US West Coast ports that diverted so much Asia cargo to the East Coast. Consider that lease renewed.