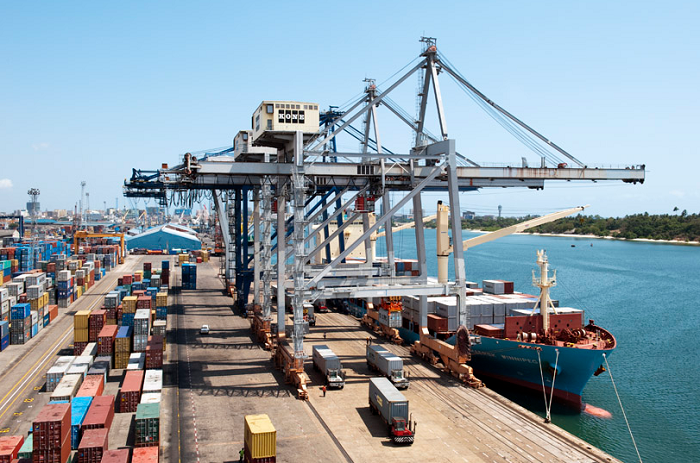 It's been called the final frontier for trade growth — the only place in the world where exponential economic and cargo growth is still possible and major trade is still evolving. Rising African container volumes are increasingly showing the limits of freight infrastructure on both the East and West African coasts, where ports are experiencing trouble dealing with the rise in ship calls and freight volume.
Africa's answer to infrastructure problems, however, seems to be a position that is becoming more popular in developing regions around the world: sit back, and wait for the Chinese to handle it.
African ports are critical to China's $40 billion "Maritime Silk Road"investment. China envisions the ports of Dar es Salaam, Tanzania; Maputo, Mozambique; Libreville, Gabon; Tema, Ghana; and Dakar, Senegal; as critical nodes in its strategy to cement global trade lanes.China's infrastructure financing in sub-Saharan countries tripled between 2007 and 2010, the International Monetary Fund said, accounting for about half of the external funding for infrastructure development. Chinese Premier Li Keqiang said trade between China and Africa will double through 2020, and Chinese investment will quadruple to $100 billion.
"Chinese investors are particularly well-positioned to take advantage of the improved economic environment in Africa," an analyst from Pricewaterhouse Cooper said. "They do have a major competitive edge: they can avail themselves of subsidized credit from their deep-pocketed home government, enabling them to out-compete other bidders for African procurement contracts, not only foreign investors but also African firms."
Despite some African countries' skepticism of the true intentions of China's investment, they are left little choice, and the money being spent by the Chinese is staggering.
Most recently, China announced a government-backed development project in Tanzania. The governments signed an agreement on Oct. 25 that will allow China Merchant Holdings International to invest $1.7 billion in the country; the investment includes the building of an entire satellite city in Bagamoyo.
Construction will include a $460 million seaport with a capacity of 20 million TEUs, and is expected to be completed in 2017. The port will become eastern Africa's largest port, rivaling Chinese-funded development of a port on the Senegal-Ethiopia border.
There are other instances of investments by the Chinese where they opt to gain control of existing infrastructure. China Merchant Holdings purchased a 50 percent stake in the Lome Container Terminal in Togo. Expansion on the terminal, which is under construction, will expand the LCT to four berths, with terminal capacity of 2.2 million TEUs.
Even South Africa. which is widely seen as the country with the most sophisticated infrastructure, is opening its hands for Chinese aid. South Africa's Department of Trade recently announced it would work with the Bank of China to attract more Chinese investment into the country.
The rate and size of investments are spurring questions as to intent. Chinese investments lack strategy and are overwhelmingly focused on helping Chinese interests, rather than guiding sustainable African economic growth, Yun Sun, a fellow in the Brookings Institution's African Growth Initiative, wrote in a research paper. The Chinese have not engaged in political risk assessment associated with African investment, Sun wrote, and have no comprehensive commercial strategy, which could lead to a mismatch of infrastructure  expansion projects and volume growth.
The influx of cash from the Chinese could only partially solve the problem facing West Africa and sub-Saharan Africa ports. From 2012 to 2013, global exports to sub-Saharan Africa grew 8.9 percent to 6.4 million TEUs, data from Container Trades Statistics show, making the region the fastest growing in the world. Seven of the world's 10 fastest-growing economies are in Africa, according to the International Monetary Fund, which expects, on average, Africa to have the world's fastest-growing economy of any continent over the next five years.
In the 2013 World Economic Forum's global rankings for port infrastructure, only four countries — South Africa, Morocco, Kenya and Namibia — ranked were given satisfactory marks. On the WEF survey, which asked business executives to rate worldwide port infrastructure, no country on the continent scored higher than a five on a scale of one (poor) to seven (advanced). On the same list, 37 sub-Saharan African countries were listed as a stage one economy, with economic success based on unskilled labor and natural resources.
It's no secret that African countries lack the capital and, in many respects, the organization to make the investments themselves, but some initiatives could aid in solving port problems domestically. South Africa's state port and rail operator TransNet agreed to aid Kenya, Namibia, Mozambique and Ghana in bringing their ports up to international standards. Nigeria launched several committees to look into how to relieve congestion at its Lagos port, specifically eyeing the prospect of enhancing businessat its satellite ports.
Ocean carriers are investing as much as possible into bolstering networks to be able to move freight in Africa, as well. CMA CGM and Safmarine/Maersk Line, which combine to represent about 45 percent of the capacity on the Asia-Africa trade lane, have invested heavily in building a complete logistics network in sub-Saharan Africa and on the West Africa coast to enable easier transport.
"Everyone sees the future possibilities," Safmarine North America President Jonathan Yock said. "The growth and the investment in ports has been substantial. The people who can throw money at it, who are positioned to invest, are now more than ever before."
Though ports have talked of modernization for decades, the deadline for improvements has come and gone. CMA CGM enhanced its service loops from Asia to eastern Africa in early December, as did Evergreen Line and Emirates Shipping Line.
Not only are more ships than ever before heading to Africa, but larger ships are poised to make an appearance in the trade within the next year. CMA CGM's largest ships in the trade are 5,700 TEUs, and the Mediterranean Shipping Co. recently consolidated its West African loop and will be running 10 vessels with capacity of up to 6,500 TEUs into Lome, Togo.
Container terminals in Mombasa, Kenya and Lagos, Nigeria, are already congested. Both ports are experiencing growing pains from extra vessel calls and added volumes, which is creating delays of up to three weeks.
The growth shows no sign of slowing. Ships as large as 8,000 TEUs could be used on a regular basis in East and West Africa, Mathieu Friedburg, vice president  of CMA CGM's Africa lines, told JOC.com. By 2020, there could even be 10,000-plus TEU ships servicing Africa, he added.
According to both Friedburg and Yock, it's no longer a matter of if those ships are coming; it's a matter of when. And when the post-Panamax ships are warranted, the biggest question is whether African nations will have the infrastructure to serve them.
"By 2017 or 2018, if the dredging on tap and the other projects are completed, some of these ports will be able to handle some of [Maersk Line's 18,000-TEU] Triple Es," Yock said. "Making improvements to the ports will attract that kind of volume, which will drive the need to improve the railways, improve the roads. If these ships discharge thousands of containers, they will have to have a way to move inland."
Contact Corianne Egan at cegan@joc.com and follow her on Twitter: @CEgan_JOC.