Ports of Bremen/Bremerhaven
Ports of Bremen/Bremerhaven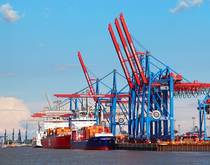 There were several, telling data points that placed the business loss in a historical context.

Officials say alliance volume shifting from Bremerhaven could go a long way toward replacing losses in two areas — one business model-related, the other physical.

Along with trade tensions and the non-finalized new trade rules between the United States and the European Union, trade stakeholders are concerned about the condition of Turkey's economy, a further deterioration of which would substantially hurt regional trade.