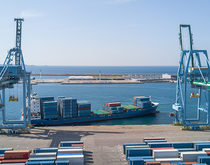 The EU's executive said it is also assessing tax breaks for other ports in the 28-nation bloc.

Zeebrugge is the intermediate shipment point for a $27 billion project.

The new alliances are likely to have only a limited effect on productivity and the number of services available to shippers at North Europe ports.

North Europe's stagnant economy is expected to produce a decline in container volume at the region's ports during the first half of 2016, Hackett Associates and the Hamburg-based Institute of Shipping Economics and Logistics said.