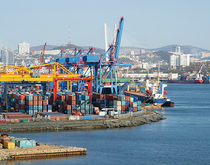 Russia's Far East ports offer shorter transit times to St. Petersburg, but shipper interest is weak.

Fesco is currently in talks with its creditors and bondholders over the restructuring of its debts.

Shippers moving goods from northeastern China to international markets are turning to Russian ports.

Russian container terminals and exporters didn't experience any disruption tied to the new SOLAS container weight rule.