Port of Marseilles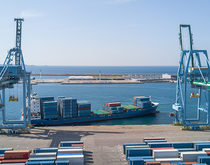 The EU's executive said it is also assessing tax breaks for other ports in the 28-nation bloc.

The European Commission has begun an investigation into whether tax breaks for French and Belgian ports breach EU state aid rules.

France's ports, railways and airports face shutdown.

The Mediterranean port of Marseille Fos is seeing stronger container growth compared to the industry average in Europe, a result the port attributes to shippers becoming more convinced that the port's days of labor strife are in the past.