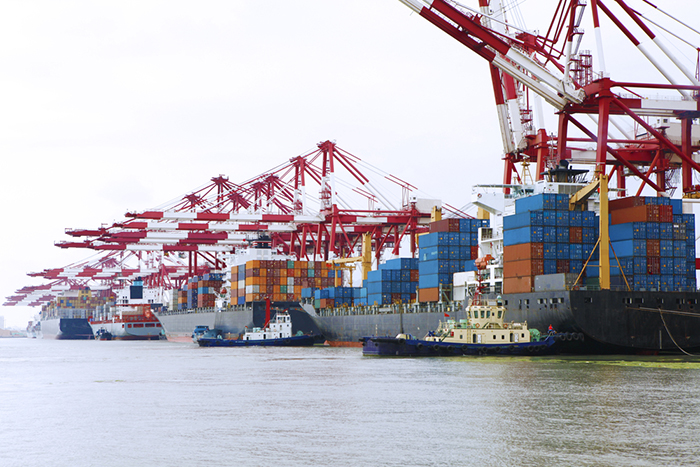 HONG KONG — Throughput at China's top 20 container ports rose 4 percent in the first 11 months of the year compared to 2014 as most of the mainland terminals continue to grow volumes despite slowing trade putting the brakes on exports.

Data from the Shanghai Shipping Exchange shows that the top 20 ports in the country handled 166 million 20-foot-equivalent units from January through November, and with a month left the full-year throughput is certain to at least reach that of last year.

The top 20 Chinese ports in 2014 handled 174 million TEUs, and if the December throughput is even half what was handled in the same month last year, the total will match that of 2014 come Dec. 31.

The general trend is one of slowing throughput growth as foreign demand for China-made products has remained soft for most of the year. China-U.S. trade has been one of the bright spots and container volumes to the U.S. are recording solid growth this year, but China-North Europe container volumes are registering negative growth.

Shanghai remains the busiest Chinese container port, handling 10 million TEUs more than second place Shenzhen. During the month of November, Shanghai throughput was 4 percent higher year-over-year, but more than 1 million containers have crossed the port's wharves in the first 11 months compared to 2014.

Even Tianjin has come to the party, shrugging off the massive port explosion that devastated the port earlier this year and dragged down the container handling figures. Throughput at the Bohai Rim port in November was up 7 percent compared to the same month last year, reaching 1.28 million TEUs.

Volumes at Tianjin, which is China's sixth-largest container port and the 10th-largest in the world, dropped by more than 25 percent year-over-year in September to 922,000 20-foot-equivalent units. Year-over-year throughput at Tianjin was down almost 28 percent in August.

So far this year Tianjin has handled 12.8 million TEUs, and should be able to match the full year box numbers of 2014.

Standing out among the rest of the ports was Dalian, which recorded a November drop year-over-year of 37 percent. Its year-to-date throughput is half a million containers less than 2014.

The third-busiest China container port was the Ningbo-Zhoushan complex not far south of Shanghai. It is effectively two ports and as the year draws to a close the combined tally for the first 11 months is 6 percent higher compared to last year, or more than 1.2 million TEUs.

Another interesting story is the port of Guangzhou, situated in the Pearl River Delta. This export-heavy region has been hit hard by slowing foreign trade, but the Guangdong Province city of Guangzhou continued to produce solid throughput growth.

Volume at Guangzhou and its Nansha terminals was up almost 10 percent in November year-over-year, handling 1.7 million TEUs. Its 11-month throughput is 6 percent higher compared to last year.

The Bohai Rim port of Yingkou climbed two places up the top 20 port list to No. 9, growing its throughput by 7 percent compared to November last year. While the port is a bulk and auto hub it is also the major import gateway for northern China and Mongolia.

Contact Greg Knowler at greg.knowler@ihs.com and follow him on Twitter: @greg_knowler.