DFDS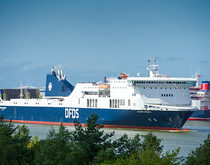 The increase in earnings was driven mainly by higher freight traffic on North Sea and Baltic Sea routes.

Freight traffic grew by double digits across the DFDS network, and cargo rates increased.

DFDS boosted operating profit by double digits in the third quarter and upgraded its full-year outlook.

DFDS raised its full-year outlook and increased profit following a strong second quarter at a time other transportation companies have posted losses or downgraded their full-year outlooks.