Yildirim Group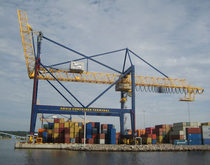 Yildirim's CMA CGM stake is now valued by banks at between $2.5 billion and $3 billion.

A Turkish port operator is determined to transform an Ecuadorian port into the largest container terminal in Latin America.

The pool of potential buyers of Sepetiba Tecon outside Rio de Janeiro has shrunk from five to three.

Yildirim Holding is mulling investment in U.S. ports as the Turkish transport and industrial conglomerate pursues its bid to become a top 10 global terminal operator.