Seaspan
Primary tabs
Seaspan is an owner and manager of container ships that offers long-term leases on container ships as well as ship management. Seaspan's managed fleet of its own and third-party vessels comprises 89 vessels with a total capacity of over 600,000 TEUs, including 16 new container ships on order and scheduled for delivery by the end of 2015.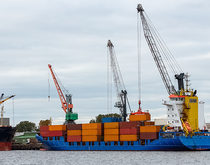 The New York Stock Exchange-listed company said it has begun the search for a new CEO.

Seaspan Corporation's earnings and revenue declined in the first quarter.

Hanjin Shipping confirmed it remains in negotiations with tonnage providers for lower rates, but wouldn't say much else.