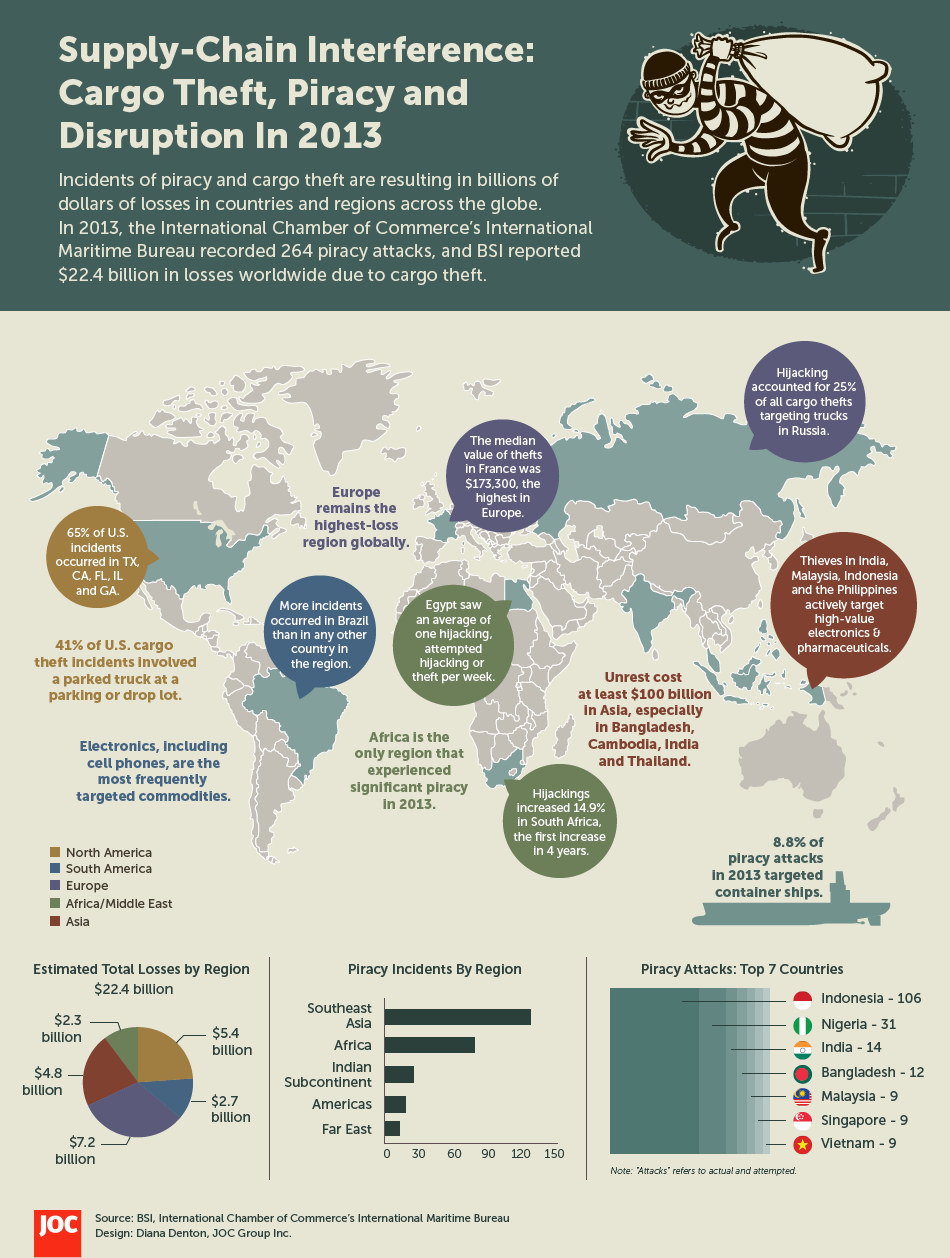 Threats to supply-chain security change constantly, but regular monitoring of disruptions can help build a complete picture of how to counteract them.
BSI estimates that global cargo theft resulted in losses of $22.4 billion worldwide in 2013, basically flat compared with the previous year. However, cargo theft remains a challenge for global importers, especially those with high-value and liquid goods, BSI said.
Countries that BSI rated as "high" or "severe" for cargo theft continued to see large numbers of thefts and "significant" losses in 2013, including Italy, Mexico, Russia and South Africa, which saw many violent cargo theft incidents. In Poland, however, BSI noted a sustained decrease in the threat of cargo theft, and consequently it lowered the cargo theft threat rating in the country from "severe" to "high."
Asia, India, Malaysia and the Philippines also saw "significant" numbers of thefts in 2013, BSI said. In the Middle East, Egypt emerged as a higher-risk country for cargo theft following the ouster of Mohammed Morsi in July and the subsequent political instability there.
Trade interruptions also impacted supply chains in 2013, emerging as the primary threat to business and supply-chain continuity in multiple countries, according to BSI. Labor and political unrest in the Asian nations of Bangladesh, Cambodia, India and Thailand cost businesses more than $100 billion, and some of the resulting trade interruptions "are likely to last well into 2014," BSI said. Strikes in Chile in April and again in December cost an estimated $6 billion total, and Colombia lost close to $244 million after various worker groups went on strike in August and September, at one point affecting about 70,000 cargo trucks. Additionally, strikes at the Port of Lisbon, Portugal, caused cargo volume at the facility to drop 68 percent.
Africa was the only region that experienced significant piracy in 2013, as attacks have decreased off Somalia but increased off West Africa in the Gulf of Guinea. However, by country, Indonesia recorded the highest level of piracy, reporting 106 attempted and actual attacks in 2013.
Contact Grace M. Lavigne at glavigne@joc.com and follow her on Twitter: @Lavigne_JOC.