JOC Staff | Sep 18, 2012 1:29PM EDT
Spot rates from Shanghai to North Europe, North America and the Mediterranean dropped this week, indicating a weakening market, according to the Shanghai Containerized Freight Index.
Separately, Drewry Supply Chain Advisors' weekly World Container Index reported that its Shanghai-Rotterdam spot rate index slipped 3 percent to $2,928 per 40-foot-equivalent unit. It was the fourth consecutive drop in the index, and the seventh in eight weeks since the index hit $3,521 on July 5. Although Asia-Europe volume statistics aren't available yet, "the market's belief that demand continues to weaken seems to be … reflected by the movement of spot rates," said Benjamin Graham, freight derivatives broker at Clarkson Securities in London. He said carriers' scheduled general rate increases are encountering resistance.
"There is little support for September GRIs being upheld and keener selling interest on forward contracts is starting to provide opportunities for shippers and forwarders to lock in rates for next year at discounts to what is being offered in the physical market," Gibson said.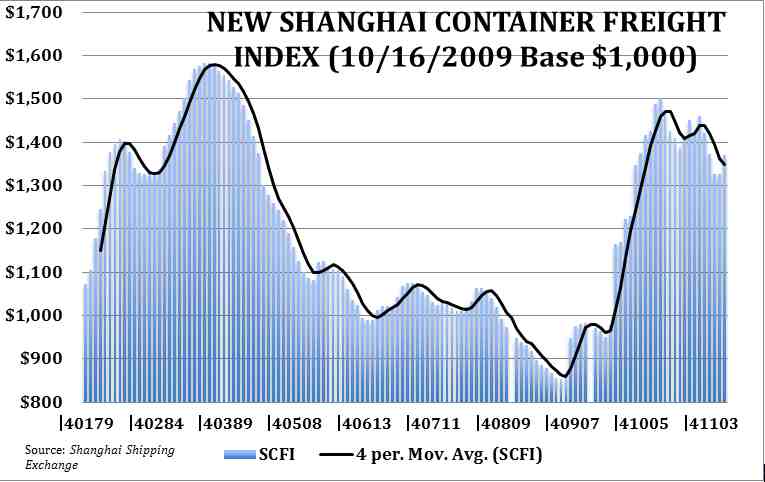 The SCFI measures spot market rates on a week-to-week basis. The index of spot rates from Shanghai to the North European ports of Hamburg, Rotterdam, Antwerp, Felixstowe and Le Havre fell to $1,324 per 40-foot-equivalent unit, a drop of 7.8 percent.
Declines also were posted to the U.S. West Coast (to $2,485, down 3.2 percent), the Mediterranean to $1,371, down 3.9 percent), and the U.S. East Coast (to $3,741, down 3 percent).