Zim Integrated Shipping Services
Zim Integrated Shipping services is Israel's largest shipping company. Established in 1945, Zim operates a fleet of 89 vessels with a total carrying capacity of 363,474 TEUs (20-foot-equivalent units), making it the world's 18th largest shipping company.
The Haifa-based company is a subsidiary of Israel Corp. Its U.S. headquarters is in Norfolk, Virginia. The shipping company posted revenues of US$3.7 billion in 2013-- down 7 percent on a year on year basis. The company recorded a net loss of $535 million, up 23.5 percent from the previous year's net loss of $433 million.
Zim was the 17th-ranked container carrier in U.S containerized import trade in 2013, with volume of 313,180 TEUs, down 5.1 percent year-over-year, giving it market share of 1.7 percent. It was No. 19  in U.S. containerized export trade in 2013, with volume of 246,790 TEUs, down 6.4 percent year-over-year and market share of 1.9 percent. For more carrier rankings see the JOC's Top 40 Container Carriers special topic.
Press Releases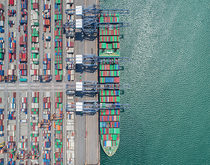 Carriers large and small battle for market share and profits in the Pacific.