Yang Ming Line
Yang Ming Marine Transportation Corp. is the largest Taiwan-based global shipping logistics services company, operating a fleet of more than 100 vessels [101, as of Nov. 18], with a combined oprating capacity 643,000 TEUs. Over the first nine months of 2018, Yang Ming was ranked ninth among all carriers in U.S containerized import trade, with volume of over 700,000 TEUs, up 4 percent year-over-year, for a 4 percent share of that market. Over the same period, Yang Ming also ranked in ninth spot among carriers of U.S. containerized export trade, with volume of over 350,000 TEUs, up 0.2 percent, year-over-year, for a 3.7 percent share of that market.
Although Yang Ming Line is Headquartered in Keelung, Taiwan, it opeates numerous services that link Taiwan with mainland Chinese ports such as Shanghai, Ningbo, Xingang and Shekou. Other services link container ports in Japan, South Korea, and Southeast Asia with other ports in Europe (Antwerp, Hamburg, Rotterdam), Prince Rupert (Canada) and the U.S. (Oakland, L.A.)  Yang Ming is also a member of The Alliance, along with Hapag-Lloyd and Ocean Network Express (ONE).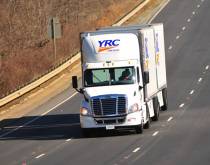 The US government's $700 million loan to YRC Worldwide guarantees LTL stability in an uncertain economy.