Wan Hai
Wan Hai Lines is a container carrier with a network that covers areas in Asia, the United States, South America, Africa, Europe, and the Middle East. Established in 1965 with headquarters in Taipei, Taiwan, the shipping company has a fleet of 72 vessels with a total capacity of 178,445 TEUs. The company employs approximately 4,000 individuals and reported 2013 revenues of TWD 59.68 billion — down 5.2 percent year-over year. The company recorded a net profit of TWD 2.14 billion, up 15.8 percent from the previous year's net profit of TWD 1.85 billion.
Wan Hai - Asia focus
Wan Hai Lines was the 26th-ranked container carrier in US containerized import trade in 2013, with volume of 89,700 TEUs, up 36.5 percent year-over-year, giving it market share of 0.5 percent. It was No. 37 in U.S. containerized export trade in 2013, with volume of 23,099 TEUs, down 9.1 percent year-over-year and market share of 0.2 percent. For more carrier rankings see the JOC's Top 40 Container Carriers special topic.
Wan Hai Lines posted a profit of $21.8 million in the first quarter of 2014, allowing them to remain the leader among Taiwan's top three shipping companies. Almost 87 percent of Wan Hai's services are focused on routes in Asia, where container volumes and freight rates are more stable than in the volatile east-west trades. This has enabled the carrier to regularly remain in the black while its larger Taiwan rivals suffer losses.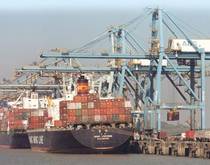 Wan Hai hopes to attract business/volume under India's liberalized cabotage system.