Trailer Bridge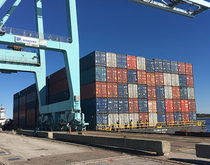 The added Puerto Rico capacity comes as recovery from Hurricane Maria has rekindled debate over the Jones Act.

Only 7.8 percent, or 392 miles of Puerto Rico's 5,073 miles of road, are open.

As the US and relief organizations struggle to move goods across battered Puerto Rico, Hurricane Maria's legacy will include long-term damage to supply chains.

Trailer Bridge is developing a new niche with 53-foot containers on a twice-weekly service to Santo Domingo