OOCL
OOCL, or Orient Overseas Container Line, is the world's 13th-largest container shipping company, with approximately 240 vessels with a combined capacity of 800,000 TEUs. Founded in 1969, the ocean carrier is present in more than 65 countries.
Hong Kong-based OOCL is a wholly-owned subsidiary of Orient Overseas (International) Limited, a public company listed on the Hong Kong Stock Exchange. OOCL posted revenue of US$6.2 billion in 2013 — down 3.5 percent on a year-on-year basis. The company recorded a net profit of $47 million, down 84 percent from the previous year's net income of $296 million.
Rank and Market Share
OOCL was the 10th-ranked container carrier in U.S. containerized import trade in 2013, with volume of 745,881 TEUs, down 1.7 percent year-over-year, giving it market share of 4.1 percent. It was No. 8 in U.S. containerized export trade in 2013, with volume of 538,287 TEUs, down 3.9 percent year-over-year and market share of 4.2 percent. For more carrier rankings see the JOC's Top 40 Container Carriers special topic.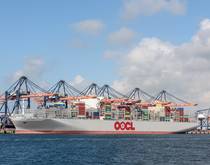 OOCL is sounding alarms about the impact of a trade war on international shipping volumes after a strong first half.