Ocean Network Express (ONE)
Ocean Network Express (ONE)
Established in 2017, Ocean Network Express (ONE) is a joint venture of the container line operations of three Japanese carriers: Kawasaki Kisen Kaisha, Ltd., known as 'K' Line; Mitsui O.S.K. Lines, Ltd., known as MOL; and NYK Line, or Nippon Yusen Kabushiki Kaisha (NYK).
ONE's combined fleet size initially totaled 1,550,000 TEUs, ranking it the sixth-largest fleet in the world. ONE's operations involve a fleet of over 250 vessels, including more than thirty super-large ships, such as 20,000 TEU container-ships. Covering over 100 countries around the world, ONE's liner network links Asia with both coasts of North America; Europe with Asia; Europe with North America; West and Southeast Asia with China; and East Asia with Latin America. Although ONE's holding company is located in Japan, its operational headquarters are in Singapore.
Over the first nine months of 2018, ONE ranked as the fourth-largest carrier of containerized imports to the U.S., with about 2 million TEUs of cargo, behind only CMA CGM, Maersk and MSC. Over the same period, ONE ranked fifth among carriers of containerized exports, with about 850,000 TEUs.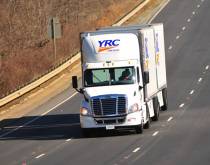 The US government's $700 million loan to YRC Worldwide guarantees LTL stability in an uncertain economy.