NYK Line
NYK Line, or Nippon Yusen Kaisha, is headquartered in Tokyo, Japan. The company offers services from global logistics to bulk shipping. NYK Line was founded in 1870 as Tsukumo Shokai Shipping and is the world's 12th-largest shipping line.
NYK Line currently operates more than 800 vessels including container ships, woodchip carriers, car carriers, LNG carriers and reefer carriers. Its container ship fleet comprises more than 150 vessels, both owned and chartered, with a total capacity of more than 450,000 TEUs (20-foot-equivalent units). The company has 240 offices in 27 countries.
NYK Line posted revenues of US$20.17 billion in 2013 — down 8.3 percent on a year-on-year basis. The company recorded a net profit of $200.9 million, up from the previous year's net loss of $404.4 million.
NYK Line was the 12th-ranked container carrier in U.S containerized import trade in 2013, with volume of 716,175 TEUs, up 3.1 percent year-over-year, giving it market share of 4.0 percent. It was No. 10 in U.S. containerized export trade in 2013, with volume of 453,648 TEUs, up 4.9 percent year-over-year and market share of 3.6 percent. For more carrier rankings see the JOC's Top 40 Container Carriers special topic.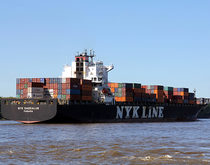 The improving container shipping market is reflected in the nine-month financial results of Japan's big three carriers.