Mediterranean Shipping Co.
Mediterranean Shipping Company (MSC) is the world's second largest shipping line. The privately owned company was founded in 1970 in Geneva, Switzerland. It operates worldwide, serving 6 continents and calling at 316 ports.
As of mid-August 2014, MSC operates 500 vessels with a combined capacity of more than 2.5 million TEUs (20-foot-equivalent units), according to Alphaliner. The company employs 29,000 people.
According to Alphaliner, MSC has the largest orderbook of any container carrier, at 42 vessels with a combined capacity of more than 480,000 TEUs as of mid-August 2014.
MSC  was the second-ranked container carrier in U.S containerized import trade in 2013, with volume of 1,776,046 TEUs, up 3.4 percent year-over-year, giving it market share of 9.8 percent. It was No. 1  in U.S. containerized export trade in 2013, with volume of 1,558,214 TEUs, up 2.2 percent year-over-year and market share of 12.2 percent. For more carrier rankings see the JOC's Top 40 Container Carriers special topic.
In the wake of the rejection of the P3 Network, MSC and Maersk Line have announced plans to form a new vessel-sharing agreement, dubbed "2M," subject to regulatory approval.
Click on the cover above to view the new 30th Anniversary Digital magazine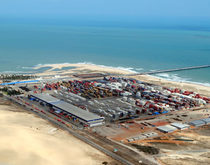 The service, which will run until February, began last week.