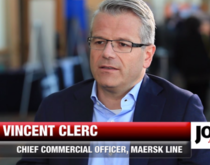 Maersk Chief Commercial Officer Vincent Clerc on the importance of partnerships in solving problems and creating a better digital environment.

The U.S. government has fined two Maersk Group units a total of $3.66 million for documentation violations related to a defense contract the company described as "the submission of improper invoices."

Maersk Group's 2015 profit tumbled 82 percent to $925 million as record low freight rates and a write down in the value of its oil assets savaged the Danish shipping giant's annual earnings.
Maersk Line on Thursday resumed liner services to the Port of Tianjin after temporarily suspending calls to the world's 10th busiest port after an explosion that devastated the port and surrounding areas.