Hyundai Merchant Marine
Hyundai Merchant Marine is the world's 15th-largest container shipping company, with a fleet of 160 vessels. Established in 1976 with headquarters in South Korea, Hyundai has formed a global network with 28 subsidiaries, 76 branches, six overseas offices and 10 liaison offices.
Hyundai Merchant Marine, which is a part of the Hyundai Group, posted revenues of KRW 6.9 trillion in 2013 — down 10.4 percent year-on-year. The company recorded a net loss of KRW 351 billion, down 32.5 percent from the previous year's net loss of KRW 520 billion.
Hyundai Joins 2M Alliance
Hyundai has joined Maersk Line and Mediterranean Shipping Co. in the 2M Alliance on the Asia-Europe, trans-Pacific and trans-Atlantic trades.
Where Hyundai Ranks
Hyundai was the ninth-ranked container carrier in U.S. containerized import trade in 2013, with volume of 796,509 TEUs, up 0.9 percent year-over-year, giving it market share of 4.4 percent. It was No. 9 in U.S. containerized export trade in 2013, with volume of 796,509 TEUs, up 2.6 percent year-over-year and market share of 4.0 percent. For more carrier rankings see the JOC's Top 40 Container Carriers special topic.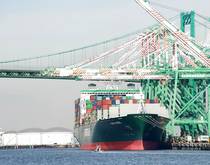 The move represents modest good news for US importers scrambling for slots, amid a peak season surge in volume.