Hyundai Merchant Marine
With the bankruptcy of Hanjin Shipping in 2016, and the termination of its services, HMM, formerly known as Hyundai Merchant Marine, has become the leading Korean national containers carrier. The world's 14th largest container line in terms of vessel capacity, HMM moves the lion's share of South Korea's exports. Following the bankruptcy of Hanjin, HMM's cargo volume increased.
With the demise of Hanjin, HMM and SM Line are now the only two South Korean liner operators offering long-haul routes. Its range of offerings include all-water services that connect East Asia via the Suez and Panama canals with US East Coast ports. Its Asia Loop connects East Asia to major European ports. Other services include its Korea-Middle East Express, Asia Gulf Express, and services that connect East Asia with South America's east and west coasts.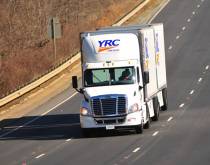 The US government's $700 million loan to YRC Worldwide guarantees LTL stability in an uncertain economy.