Horizon Lines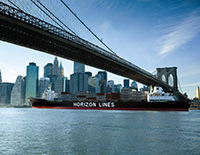 Horizon Lines is a U.S. domestic ocean carrier operating in the Continental US, Hawaii, Alaska, and Puerto Rico. It is the largest Jones Act container shipping company, and the only American carrier serving all three offshore domestic markets. The Charlotte, North Carolina-based company was established in 1956 and originated as Sea-Land Service before its name change to Horizon Lines in 2005.
Horizon Lines operates 13 vessels and transports a wide range of cargo including refrigerated, military and government, hazardous material, and vehicles and household goods. The company employs approximately 1,882 individuals and recorded 2013 revenues of $1.04 billion — down 2.8 percent year-over-year.
Horizon Lines was the 35th-ranked container carrier in U.S containerized import trade in 2013, with volume of 29,138 TEUs, down 15.2 percent year-over-year, giving it market share of 0.2 percent. It was No. 23 in U.S. containerized export trade in 2013, with volume of 119,660 TEUs, down 13.2 percent year-over-year and market share of 0.9 percent. For more carrier rankings see the JOC's Top 40 Container Carriers special topic.