Eimskip
Eimskipafélag Íslands (The Icelandic Steamship Company) is the oldest shipping company in Iceland, established in 1914. The Reykjavík, Iceland-based company runs six shipping lines on the North Atlantic through operation of 8 ships with carrying capacity of 7,210 TEUs.
Eimskip and its subsidiaries — Eimskip-CTG, Faroe Ship, Eimskip Flytjandi, TVG-Zimsen, and Herjoflur — transport cargo by land, air and sea, and offer various logistics solutions such as warehousing and distribution. The company employs approximately 1,350 individuals across 51 offices in 18 countries.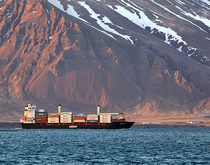 The service fulfills a company goal of introducing weekly calls at Portland by 2020.