Crowley Maritime Corporation is a U.S.-based marine solutions, transportation and logistics company. Founded in San Francisco in 1892, the company is privately owned by the Crowley family and its employees. The company recorded 2013 revenues of more than $1.6 billion and employs approximately 5,300 individuals.
Crowley Maritime Corp. offers six main services: Puerto Rico/Caribbean liner services; Latin America liner services; logistics; marine contract solutions; deep sea petroleum transportation; and petroleum transportation, distribution and sales in Alaska. The company operates a fleet of 200 vessels, consisting of cotnainer ships, RO-RO (roll-on, roll-off) vessels, articulated tug-barges, tugs and barges.
Crowley was the 21st-ranked container carrier in U.S containerized import trade in 2013, with volume of 164,816 TEUs, up 4.0 percent year-over-year, giving it market share of 0.9 percent, according to data from PIERS, the data division of JOC Group Inc. It was No. 16  in U.S. containerized export trade in 2013, with volume of 308,113 TEUs, down 3.7 percent year-over-year and market share of 2.4 percent. For more carrier rankings, see the JOC's Top 40 Container Carriers special topic.
In November 2013, Crowley announced an order for two 2,400-TEU ships to be powered by liquid natural gas, joining the recent trend among regional carriers serving the U.S., including TOTE, Matson, and Horizon Lines, in planning a shift in fuel for their vessels.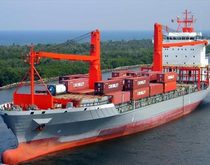 Behind the new services are surging volumes of key commodities.
Crowley Puerto Rico Services has begun construction on a 900-foot pier at its Isla Grande Terminal in San Juan, Puerto Rico, to accommodate two liquefied natural gas-powered cargo ships the carrier will put into operation in 2017.
Crowley Maritime has asked asked the U.S. Federal Maritime Commission for an exemption from having to separately amend and refile approximately 500 service contracts that the carrier will assume with its recently announced acquisition of Seafreight Line.

Crowley Maritime has signed a letter of intent to acquire SeaFreight Agencies, a Florida-based operator in the Caribbean and and South American trades in the latest example of consolidation in the region's container sector.