COSCO
COSCO Shipping Corporation, established in 2016 through a merger of COSCO and the China Shipping Group, operates one of the world's largest container fleets, with a total capacity of almost 3 million TEUs, as well as large fleets for transporting dry bulk, general, and specialized cargo. COSCO also operates over 50 container terminals worldwide with world-leading throughput of more than 110 million TEUs, as well as one of the world's largest container-leasing businesses.
A leading provider of offshore engineering and vessel agency services, COSCO's strategic multifaceted vision is to become a leader not just in shipping, but logistics, finance (including ship leasing, shipping insurance, and supply chain finance); equipment manufacturing, and other related services.  
Press Releases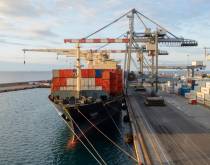 Cosco has added a new container terminal to its expanding European portfolio in a JV with APM Terminals.