CMA CGM is the world's third-largest container shipping company by capacity worldwide and No. 1 in France. Founded in Marseille in 1978 by Jacques Saadé, CMA CGM is present in over 150 countries, with 18,000 employees worldwide. It will join the Ocean Alliance when that vessel-sharing agreement takes effect from April 2017.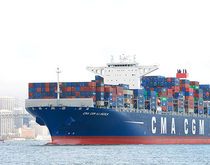 The offering starts Aug. 27 and lasts eight weeks.
CMA CGM said it will temporarily suspend its Liberty Solo service, the smallest of the carrier's four services between North Europe and the U.S. East Coast.