Pacific Northwest ports outpaced their southern West Coast rivals in year-over-year growth in container trade with Asia, with a 3.9 percent increase in imports, 1 percent in exports and 2.7 percent in total trade through the first 11 months of 2012.
Overall trade between West Coast ports and Asia totaled 12 million TEUs through November, down 1.3 percent year-over-year. Northern California ports handled 1.1 million TEUs in Asia trade, off 2.4 percent. Pacific Southwest ports experienced the biggest drop — 2.1 percent, to 8.8. million TEUs.
Complete coverage of trans-Pacific maritime trade
The "excuse" for the poor Southern California ports' performance, if you will, would be the eight-day strike in late November and early December by the Office Clerical Unit of the International Longshore and Warehouse Union. ILWU dockworkers honored the OCU action, shutting down 10 of the 14 terminals at Los Angeles-Long Beach for eight days until a tentative contract was reached on Dec. 4.
Cargo diverted to West Coast ports ahead of the September expiration of the International Longshoremen's Association contract with East and Gulf Coast ports failed to offset the impact of the Los Angeles-Long Beach action.
Despite late-year stumble, Pacific Southwest ports accounted for 72.7 percent of all West Coast trade with Asian ports through November — 63.9 percent in exports and 77.3 percent in imports.
Comparing pre-recession 2008 results with port performance through November shows a 2.9 percent drop in Pacific Southwest trade with Asian ports, while the Pacific Northwest region is off 0.8 percent. In contrast, Asia port trade through Northern California is up 3.6 percent.  
Northern California ports, primarily Oakland, garnered an overall 9.2 percent share of the West Coast-Asia ports trade, with a 14.1 percent share in exports and a 6.7 percent share in imports through November 2012.
The Pacific Northwest ports accounted for an 18 percent share of the West Coast-Asia ports trade through November, with a 22 percent share in exports and a 16 percent share in imports.
Mainland China, of course, topped the list of destinations for exports moving through the West Coast, with 5.6 percent year-over-year growth through November to 1.6 million TEUs. China accounted for 38.4 percent of the 4.1 million TEUs in Asia exports moving through West Coast ports. 
Although the West Coast import trade with mainland China was off 1.4 percent year-over year, the volume tallied 65.7 percent of the 7.9 million-TEU lane.
A rising star in Asian port rankings in the West Coast trade is the Port of Vung Tau. The southern Vietnamese hub port ranked 10th among Asian ports handling U.S. imports through the West Coast on the backs of a 14.5 percent year-over-year spike, to 136,596 TEUs. The port handled just 17,161 TEUs of such cargo in the first 11 months of 2009.   
Note: Full-year data for U.S. trade with Asian countries was not available in time for publication. Watch www.joc.com for complete 2012 results in the coming weeks.
Click Image to Enlarge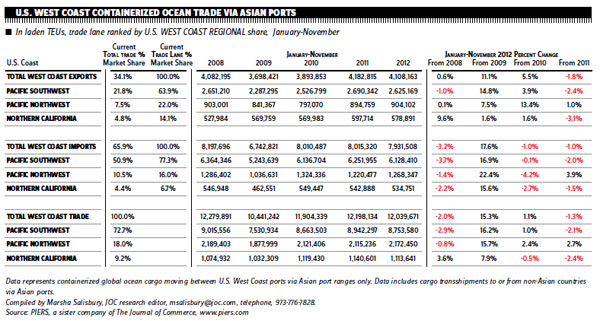 Click Image to Enlarge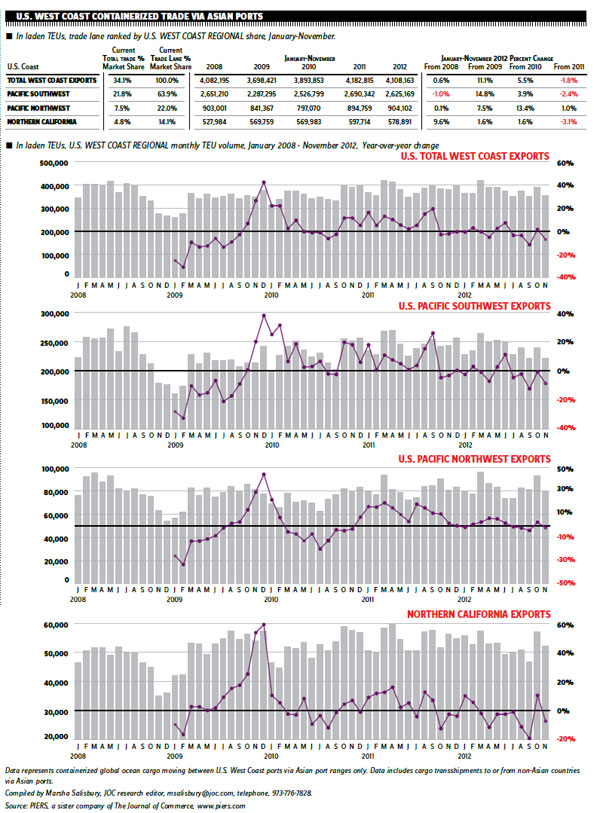 Click Image to Enlarge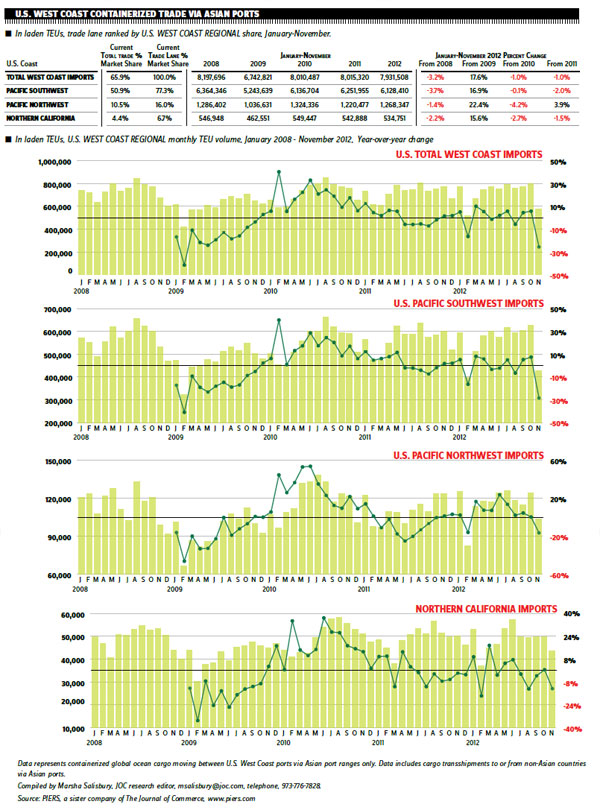 Click Image to Enlarge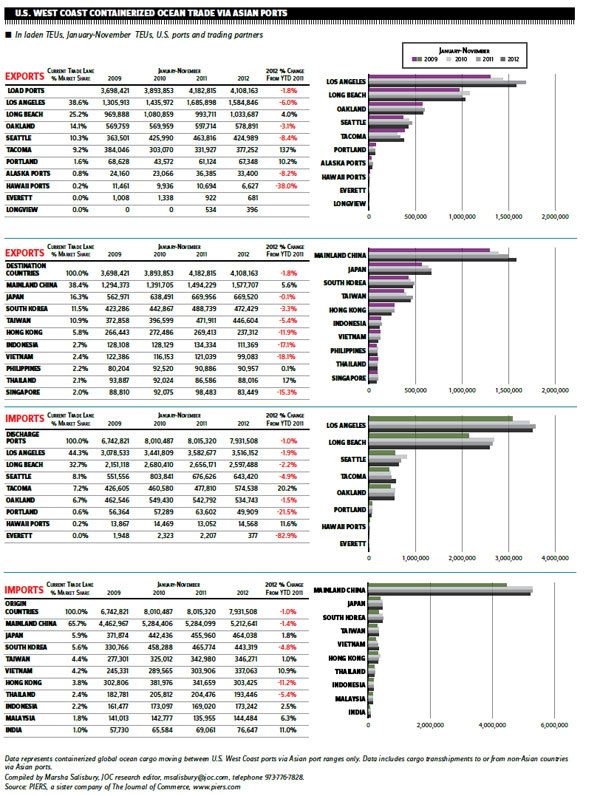 Click Image to Enlarge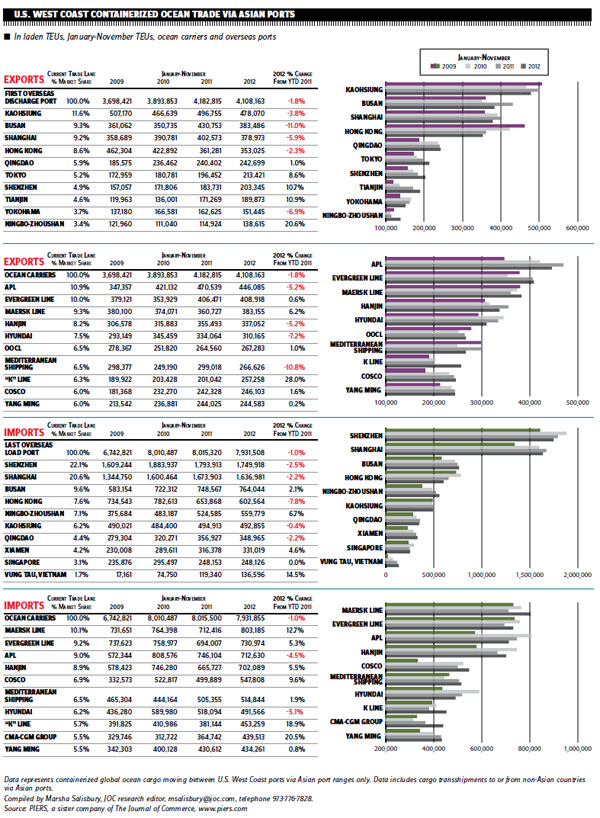 Contact Marsha Salisbury at msalisbury@joc.com and follow her at twitter.com/marshsalisbury.