Samskip Multimodal
Primary tabs
Samskip is an international shipping company that provides transportation and related services by land, sea and air. It is one of the largest transportation companies in Europe, with€560 million in turnover annually, and operates in 24 countries in Europe, North and South America, Asia, and Australia.
Established in 1990, the Netherlands-based company employs approximately 1,300 individuals worldwide across 46 offices. The company focuses mainly on European multimodal transport, North Atlantic integrated logistics, worldwide temperature-controlled and ambient cargo forwarding, and logistics and European breakbulk and project cargo movements.
Samskip operates a fleet of 14 vessels with carrying capacity of 9,940 TEUs. The company recorded a transport volume of 712,000 TEUs annually, as well as a net income of €12.2 million, up 32 percent year-over-year.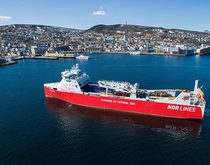 Samskip has not revealed how much it is paying for Nor Lines.
The move would build upon Samskip's penetration of the shipping market between Norway and Northern Europe in recent years.

Samskip, the Icelandic shipping and logistics group, has bought Norway's Euro Container Line.