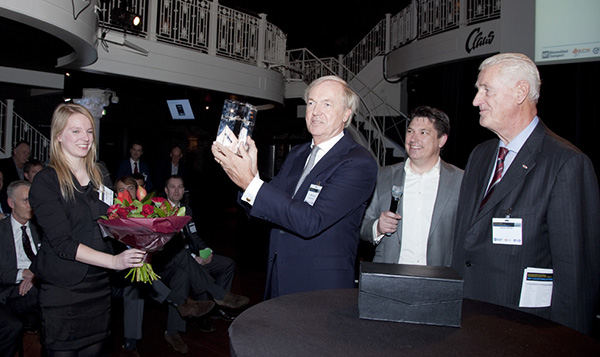 Sjoerd van Loon, CEO of logistics company IJS Global has been announced as the first ever winner of the Martin Schröder Award.  He received the trophy from the founder of Martinair – after who the trophy is named – at the Dutch National Air Cargo Awards held in Amsterdam on November 28th.

The award was established to honour individuals who have distinguished themselves in the Dutch air cargo sector and is designed to be given to those individuals or companies who have shown particular entrepreneurial qualities.

The jury determined that van Loon had shown leadership across a number of fields and had given a strong impulse to the success of the Schiphol marketplace and stated that it saw him as a pioneer in the Dutch air cargo sector.  During a career spanning more than forty -years the citation said that his entrepreneurship, pioneering spirit and dialogue had stood out.

Van Loon has long been a great advocate of close co-operation between the major Dutch seaports and Schiphol in logistics and trade-, and has made a case for ongoing air / sea dialogue between the major logistics hubs of the Netherlands.  According to Van Loon multi-modal freight attracts more cargo and makes the central distribution location of the Netherlands in Europe, only stronger.

Sjoerd van Loon began his career in 1967 at KLM Cargo and following a decade there he moved to Pakhoed  where he was involved in the integrations of Pandair and Muller International . In 1991 he acquired Müller Freight Services through a management buyout, which five years later became market-leader AEI. Van Loon subsequently held senior positions within AEI , Exel and DHL.

Almost ten years ago, van Loon started a new entrepreneurial adventure . With a handful of key allies he started IJS Global and headquartered it at Schiphol . Today, the company has become a global multi-modal player with specialist niche businesses including the distribution of relief, pharmaceuticals and aerospace and is the only major international air and ocean freight forwarder that has its global headquarters at Schiphol .
About IJS Global
Headquartered in Amsterdam, The Netherlands, IJS Global was formed in 2004 by Brynwood Partners V LP with a single vision in mind – to provide customers with a new choice by combining a premier global logistics service with a focus on service excellence and personalised solutions for all its customers.
It aims to have a global office network in all the key locations from which its customers operate, to staff those offices with the most knowledgeable professionals in the industry and at the same time instill in its team a service culture which emphasises personalised attention.  They are equipped with superior technology through a unique global operating system called iGain Visibility in order to provide the best service in the industry.
Today IJS Global continues its successful journey and operates a worldwide logistics network in 77 countries across fully owned offices and exclusive agent partnerships. Its mission is to deliver worldwide, world-class services, meeting and exceeding its customers' defined needs, in global forwarding and logistics.