DHL
DHL Logistics is a subsidiary of Deutsche Post, which employs 480,000 employees throughout 220 countries and territories worldwide. Still, 39 percent of the Bonn-based company's employees are located in Germany, while another 24 percent are located in the rest of Europe.
The company's lines of business include mail, contract logistics, express freight, supply chain management, and international freight forwarding. The company has also recently sought to diversify outside of traditional logistics operations by starting a passenger bus fleet and an online grocery store.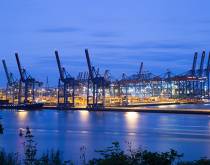 After 18 months of chaotic supply chains, cargo owners are searching for stability as they look ahead into 2022.